IKNET Company provides the whole range of design services for the development and coordination at all stages of energy project:
implementation of pre-design work for integration of the facility with external engineering networks;
implementation and coordination of the design work for construction of the facilities and circuits of their connection to the external engineering networks;
obtaining of the positive conclusions in the respective institutions at all design stages.
Professionally exe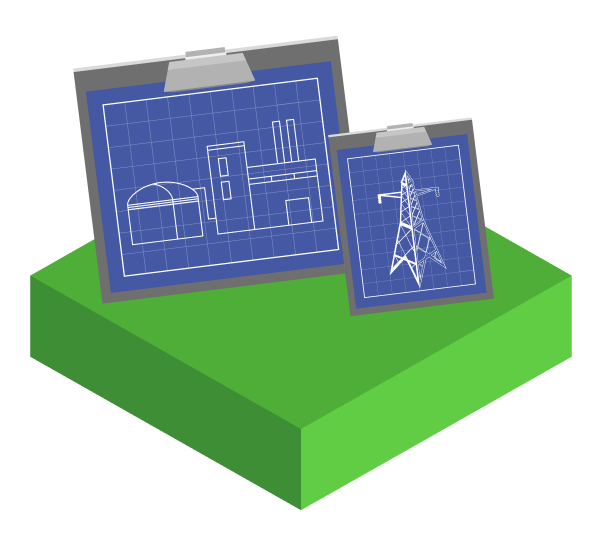 cuted design allows optimizing investments in construction and installation works.
Preliminary list of documents prior to the design development:
a copy of the document certifying the right for ownership/use of the facility or land;
urban conditions and restrictions;
technical specifications;
design assignment;
land lot surveying materials and engineering networks;
results of geotechnical studies within the design area.
While developing the design documentation for construction current urban planning documentation shall be considered.
Based on the state building codes and standards as well as class of the facility consequences (liability) shall be determined its complexity category. All construction projects are divided into I, II, III, IV and V complexity category.
Complexity category of the facility is usually indicated in the design assignment and used to determine the stages of design. It is as well defined while developing the design documentation.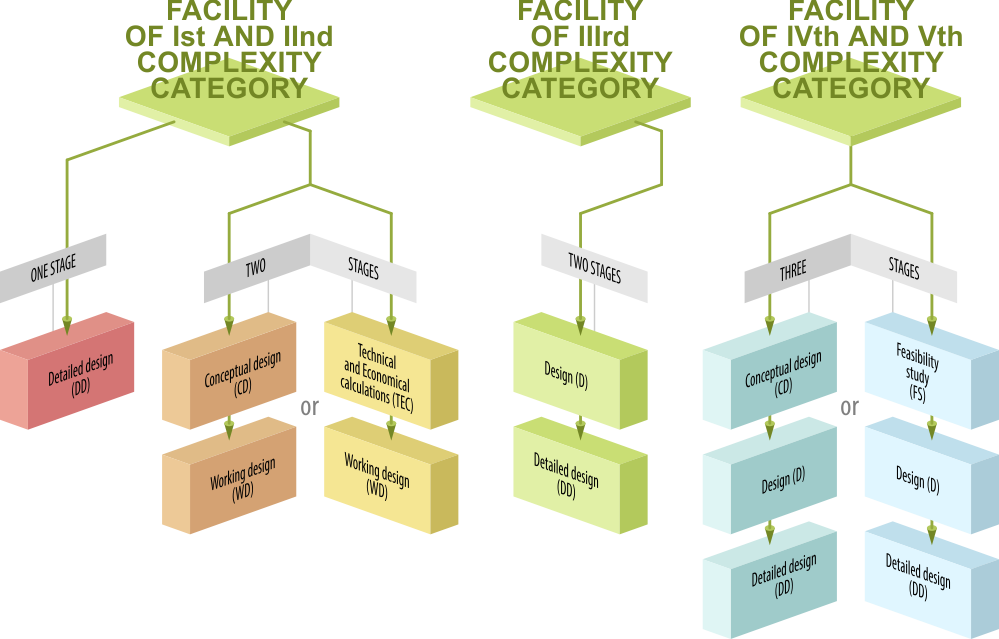 Expertise of construction shall be carried out:
Obligatory for construction of the facilities that:
- belong to the IV and V complexity categories (the issue of sanitary and epidemiological welfare of population, environment, safety, energy conservation, fire and emergency planning, nuclear and radiation safety, reliability and durability of homes and buildings of operational safety and engineering support;
- will be constructed in areas with complex engineering-geological and technological conditions in terms of strength, reliability and durability of buildings and constructions;
- will be constructed with involvement of the budget funds, including state and municipal enterprises, institutions and organizations, as well as loans provided under state guarantees on estimate part of the design documentation. In this case expertise of the construction facilities of IV and V complexity category shall be made by state-owned expertise company.
Non-obligatory for construction of the I-III complexity category facilities.
By decision of the Customer the expertise may be conducted for separate construction designs or individual sections of the design documentation that are not required by law.
Successful experience of projects implementation in terms of connection of the facilities to power grids, the availability of qualified personnel that consists of design and engineering group allowed IKNET to create the optimal concept design documentation that meets the requirements of all approving authorities (Oblenergo, "Ukrenergo" and others expert institutions).