IKNET Company provides a full range of the following services:
analysis of the existing documents;
assessment of the potential of the household's roof and selection of the basic equipment;
construction and installation work on construction of private SPP.
After construction of the SPP, our experts who have extensive experience with energy supplying companies are ready to provide services on entering into the agreement on electricity purchase and sale between the SPP owner and Oblenergos.
The purpose of private SPP and/or WPP installation
Private SPPs (with capacity up to 30 kW) are installed to produce electricity:
To satisfy the self-needs for electricity (free consumption);
To sell the electricity surplus to DSOs (Oblenergo's) by the "green" tariff (the source of income).
Wherein, the SPP and/or WPP capacity should not exceed the consumer's load which is declared in the Treaty on the use of power energy..
Technological chart SPP

Technological chart SPP
"Green" tariff shall be valid till the year 2030
"Green" tariff rate is determined by multiplication of the corresponding coefficient, set separately for every private PP, that puts into operation in determined period of time, and is revised quarterly taking into account the overage official Euro to Hryvnya NBU currency exchange rate.
"Green" tariffs for private SPP

Technological chart WPP
"Green" tariffs for private WPP
Legislative incentives for private SPPs and/or WPPs
In contrast to the industrial SPPs and/or WPPs with capacity over 30 kW, the Law of Ukraine "On Electricity" provides the following additional incentives for the owners of private SPPs:
private households could generate electricity from solar energy without the appropriate license;;
"green" tariff rate depends on euro official exchange rate.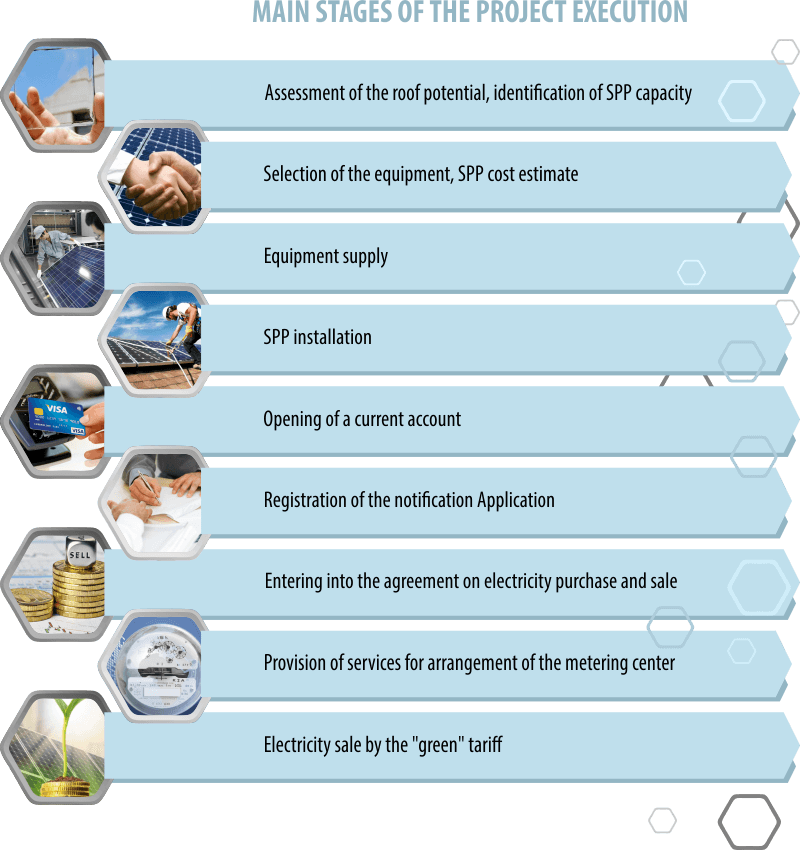 If you are interested to pre-estimate the cost of construction of private SPPs and/or WPPs please complete the questionnaire.