IKNET is ready to develop and implement the project of electricity costs optimization for your company "on a turnkey basis":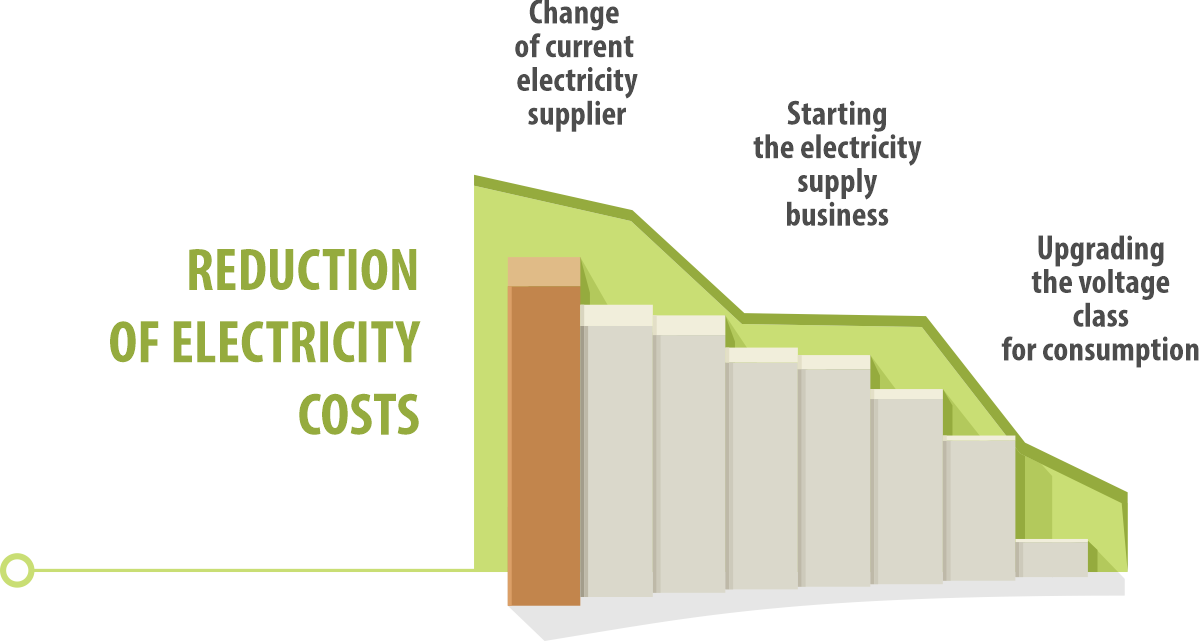 The main ways to optimize electricity costs are:
Changing the electricity supplier;
Starting own electricity supply business;
Upgrading the consumption voltage class.
CHANGE OF ELECTRICITY SUPPLIER
If a company is not satisfied with the current electricity supplier, it has the right to change it in accordance with the Electricity Retail Market Rules, by concluding a contract with a new electricity supplier.
List of electricity suppliers
https://www.nerc.gov.ua/data/filearch/litsenziini_reestry/Reestr%20subektiv%20gospodaruvannya%20yaki%20reguluutsya%20NEURC.pdf
The procedure of changing the electricity supplier by consumer's request must not exceed 21 calendar days.
The date of notification by the consumer of his intention to change the electricity supplier corresponds to the date of the consumer's registered request to the new electricity supplier of the intention to conclude a contract.
If the consumer has a valid electricity supply contract with a fixed duration, in order to avoid penalties for early termination by the previous electricity supplier, the consumer must inform the new electricity supplier of the intention to conclude a contract 21 calendar days before the expiry date of the current contract.
A notification of the intent to conclude a contract with a new electricity supplier shall be submitted by the consumer in the form of an application of accession, including the following information:
company name, extract from the Unified State Register, copy of the certificate or copy of the extract;
contact details (phone number, email, postal address, etc.)
EIС of the electricity metering point by customer facility;
name of the current electricity supplier;
other data and documents stipulated in an application of accession;
consent to the processing of personal data and its use for obtaining consumer information from the commercial metering administrator.
The commercial metering administrator may refuse to proceed with the change of electricity supplier in the following cases:
Absence of technical capability (non-compliance of the electricity metering equipment, modes of operation, reliability category, electricity consumption volumes with the commercial offer of the selected electricity supplier);
the consumer does not have a valid contract for electricity distribution (transmission) with the relevant system operator;
the electricity supply to the customer's facility is terminated at the request of the current electricity supplier, or if such a request has been duly made at the date when the customer initiated the procedure to change the electricity supplier.
No payment by the customer of invoices issued on the date of change of supplier and/or a dispute between the customer and the previous supplier does not give ground to stopping (cancelling) the change of supplier procedure.
The Consumer has the right to initiate the new procedure of electricity supplier change within 14 calendar days after the previous change of supplier without paying a penalty for early contract termination.
IKNET is able to analyze the profile and current cost of electricity consumption as well help in selecting the electricity supplier that will ensure the optimal cost of electricity.
STARTING OWN ELECTRICITY SUPPLY BUSINESS
If the company is not satisfied with the existing electricity suppliers in the Ukrainian electricity market, it is always possible to become an electricity supplier.
In order to become an electricity supplier, the following steps must be taken: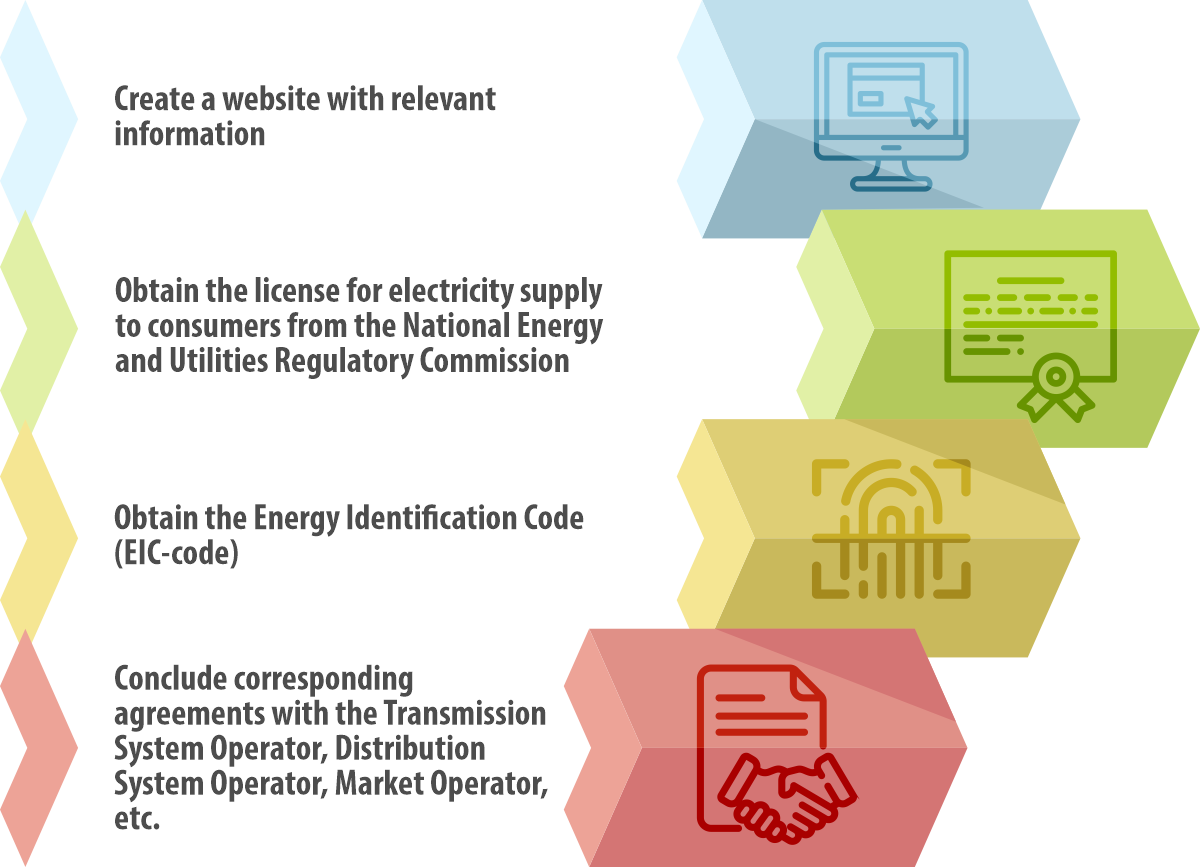 IKNET analyzes company consumption, develops the concept for starting electricity supply business, and prepares a set of documents for obtaining the generation license and organizing the further operation of the company.
UPGRADING THE CONSUMPTION VOLTAGE CLASS
In order to optimize the company's electricity consumption costs, it is possible to switch from voltage class 2 to voltage class 1, provided the company's grid connection scheme is modified.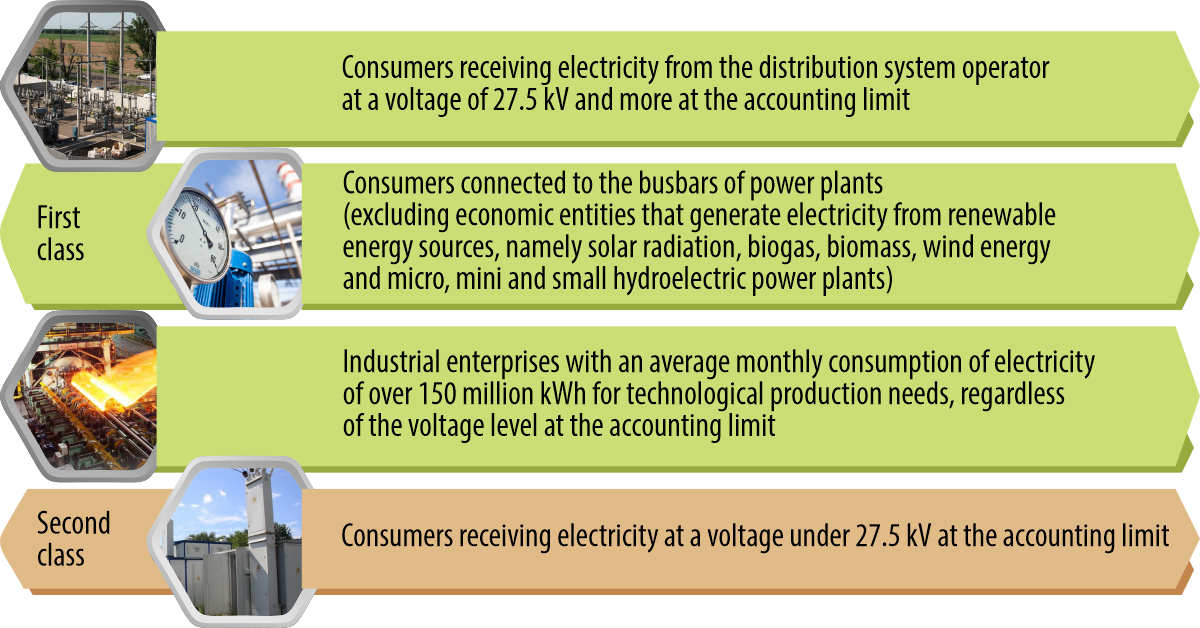 Cost optimization is achieved by switching to a higher voltage class for consumption and applying the much lower tariff. The consumption tariff difference can be seen in the table below.
Tariffs for electricity distribution services, which are valid from 01 July 2023
№
Energy distribution companies
Tariffs for electricity distribution services, UAH/MWh excluding VAT
1 voltage class
2 voltage class
1
"VINNITSAOBLENERGO" JSC
315.93
1 769.78
2
"VOLYNOBLENERGO" PJSC
242.2
1 551.43
3
"DTEK DNIPRO GRIDS" JSC
218.05
1 258.71
4
"DTEK DONETSK GRIDS" JSC
357.49
1 674.42
5
"ZHITOMIROBLENERGO" JSC
271.7
1 432.11
6
"ZAKARPATTIAOBLENERGO" PJSC
404.04
1 803.49
7
"ZAPORIZHOBLENERGO" PJSC
147.14
1 086.98
8
"DTEK KYIV GRIDS" PRJSC
181.6
733.7
9
"DTEK KYIV REGION GRIDS" PJSC
372.94
1 450.51
10
"KIROVOGRADOBLENERGO" PRJSC
319.62
1 395.08
11
"LUGANSK ENERGY ASSOCIATION" LLC
607.5
2 196.71
12
"LVIVOBLENERGO" PJSC
289.48
1 465.19
13
"MYKOLAIVOBLENERGO" JSC
423.35
1 992.55
14
"DTEK ODESA GRIDS" JSC
278.35
1 665.01
15
"POLTAVAOBLENERGO" JSC
245.33
1 722.27
16
"PRIKARPATTYAOBLENERGO" JSC
324.09
1 843.08
17
"RIVNEOBLENERGO" PRJSC
190.27
1 131.66
18
"SUMYOBLENERGO" JSC
312.61
2 046.49
19
"TERNOPILOBLENERGO" JSC
366.09
1 893.94
20
"KHARKIVOBLENERGO" JSC
407.2
1 682.8
21
"KHERSONOBLENERGO" JSC
435.08
1 335.21
22
"KHMELNYTSKOBLENERGO" JSС
385.65
1 762.94
23
"CHERKASIOBLENERGO" PJSC
238.86
1 657.67
24
"CHERNIVSYOBLENERGO" JSC
152.37
1 225.28
25
"CHERNIHIVOBLENERGO" JSC
417.72
2 115.66
26
ELECTRICITY NETWORKS SUBSIDIARY ENTERPRISE ОF PRJSC "ATOMSERVICE"
39.59
1 873.6
27
"REGIONAL ELECTRICAL NETWORKS" SE
170.99
541.27
28
"DTEK ENERGOUGOL ENE" PRJSC
50.23
483.6
29
"DTEK HIGH VOLTAGE" LLC
94.4
2 511.98
30
"UKRAINIAN RAILWAYS" JSC
434.45
1 888.52
31
PJSC "ENTERPRISE FOR OPERATION OF ELECTRIC NETWORKS "CENTRAL ENERGY COMPANY"
171.63
1 328.6
32
LLC "NAFTOGAZ TEPLO" (on the territory of Novy Rozdol, Lviv region)
334.42
1 621.04
LLC "NAFTOGAZ TEPLO" (on the territory of Novoyavorovsk, Ivano-Frankivsk, Shklo, Novy Yar, Lis, Okilki, Batogi, Starychi, Stadnik of the Yavoriv district of the Lviv region)
228.89
1 275.44
For example, the electricity distribution tariff for corporate consumers of "Vinnytsiaoblenergo" JSC:
2 voltage class – 1150.40 UAH/MWh ex VAT.
1 voltage class – 167.14 UAH/MWh ex VAT;
Savings will amount to UAH 7.87 million/year for each 1 MWh of consumed power for a company running 8,000 hours per year.
IKNET offers services of analyzing the existing scheme of external grid connection and developing possible options to switch to a higher consumption voltage class, determining the approximate cost and main economic indicators.
INTRA-DAY LOAD DISTRIBUTION
The pricing for electricity consumed is done by the Market for following time intervals:
base load from 00:00 to 24:00;
peak load from 08:00 to 20:00;
post-peak load from 00:00 to 08:00 and from 20:00 to 24:00.
Therefore, adjusting a company's electricity consumption to the hourly average price of electricity will help optimizing the cost of consumed electricity.
IKNET offers services of analyzing and optimizing the electricity consumption profile to achieve the best combination of electricity price and company consumption volumes.