Solar energy industry is not standing still, and do always adapts to the new "whims" of the consumer market.
In particular, is increasingly being used frameless mono- and polycrystalline solar panels of II generation glass / glass. Warranty period of panels – 30 years with a capacity of 90%.
Currently, the range of panels installed capacity of 250-260 W.
It should also be noted that the combination of solar panels with a power optimizer solar panels and mounts SolRif Swiss system allows not only receive clean energy, but also aesthetically appealing roof.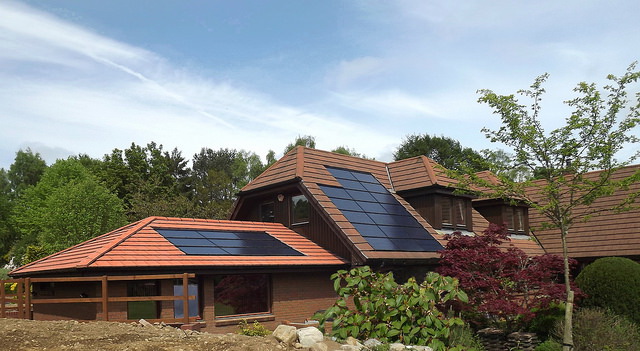 Power optimizer of solar cell is a converter DC/DC, which is attached to each module during manufacturing or immediately during installation. Power optimizers increase the energy output of photoelectric systems and are constantly tracking the maximum power point of each module separately.
Installation of solar panels realizes on the tile principle on special hooks and is quite simple.
Thanks to SolRif solar panel glass/glass tight to each other and are completely waterproof, and provide class A fire resistance of roof.
We emphasize that the installation of such technology is possible only on the buildings with the minimum roof angle of 10 degrees.
The use of these technologies is possible for reconstruction of existing buildings roofs and for new construction.