Since 01.01.2014 came into force The Law of Ukraine "On principles of functioning electricity market of Ukraine". According to it, during the period from 01.01.2014 to 01.07.2017 will carry out a number of organizational and technical measures for the purpose of transition to a new electricity market model.
The introduction of a new electricity market model creates more opportunities for the all participant development without exception.
THE MARKET PARTICIPANTS

are owned generating capacity and generate electricity.

buys electricity from producers, for which is set "green" tariff (SE "Energorynok").

obliged to supply electricity to any consumer who applied to him and is located in the implementation of its licensed activities (Oblenergo).

supplies electricity to the consumer on terms determined by the results of the agreements with the consumer, or use it for their own needs (Supplier at non-regulated tariff).

organizes the purchase and sale of electric energy for the next day in the market, "a day ahead".

transmits electricity by power grids (NEC "Ukrenergo").

operating in the electric energy distribution (Oblenergo).

provides centralized controller (technological operative) management of the incorporated power system of Ukraine ("Ukrenergo").
NEW ELECTRICITY MARKET COMPONENTS WILL BE:
Subsidiary Service Market - system operator buys subsidiary services to ensure sustainable and reliable operation of Ukrainian IPS.
---
Bilateral Agreements Market (RDD) - sale and purchase of electricity realizes on the basis of bilateral agreements (trade for months, years).
---
"Day Forward" Market (RDN) - participants submit to the market operator their application indicating the proposed sale / purchase price and periods / timing of sale / purchase (sales per hour - a day ahead).
---
Balancing Market (BR) - participants submit to the market operator an application to increase / decrease their capacity for electricity sale / purchase (trade in real time), meant for providing a stable and reliable operation of Ukrainian IPS.
---
Retail Electricity Market - electricity sale carries out by independent and / or guaranteed suppliers to consumers.
WORKING CONDITIONS AT THE NEW ELECTRICITY MARKET
To operate as producers, suppliers, enterprises, electricity transmission companies, electricity distributive companies, guaranteed buyer and market operator on the New Electricity Market, according to the current legislation is necessary to do: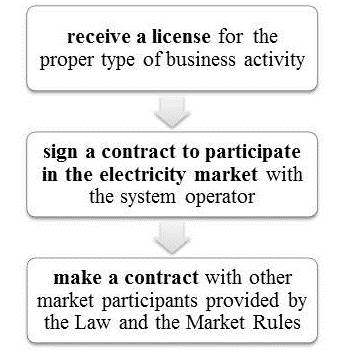 THE NEW MARKET FEATURES
Under the New Electricity Market rules participants are eligible to operate on the following markets: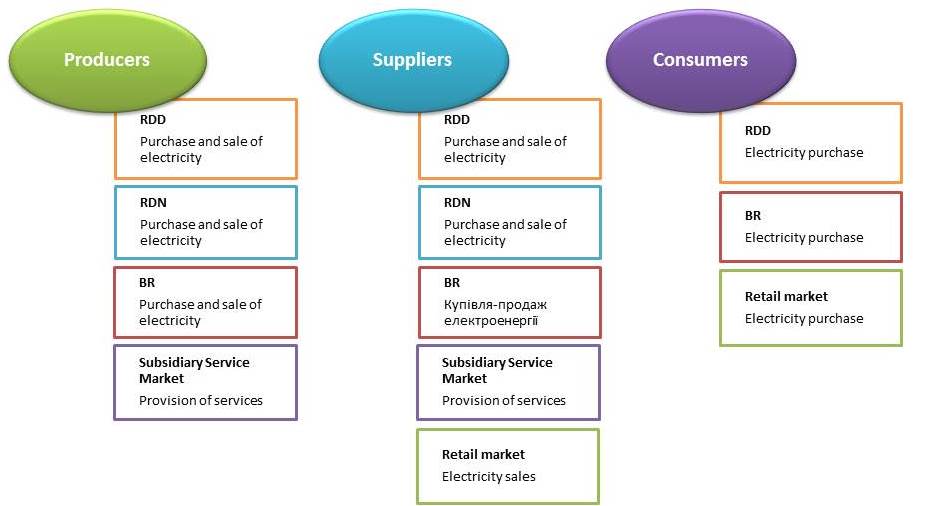 WORK FEATURES OF ELECTRICITY PRODUCERS
FOR WHICH IS SET "GREEN" TARIFF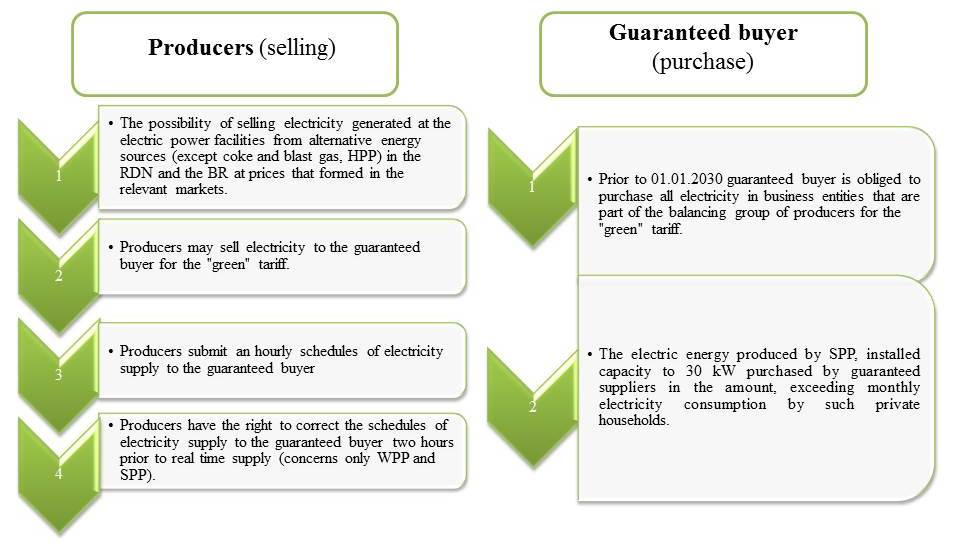 RESPONSIBILITY FOR NON-BALANCE OF PRODUCERS FOR WHICH IS SET "GREEN" TARIFF
FROM THE START OF NEW MARKET FUNCTIONING TO 01.01.2030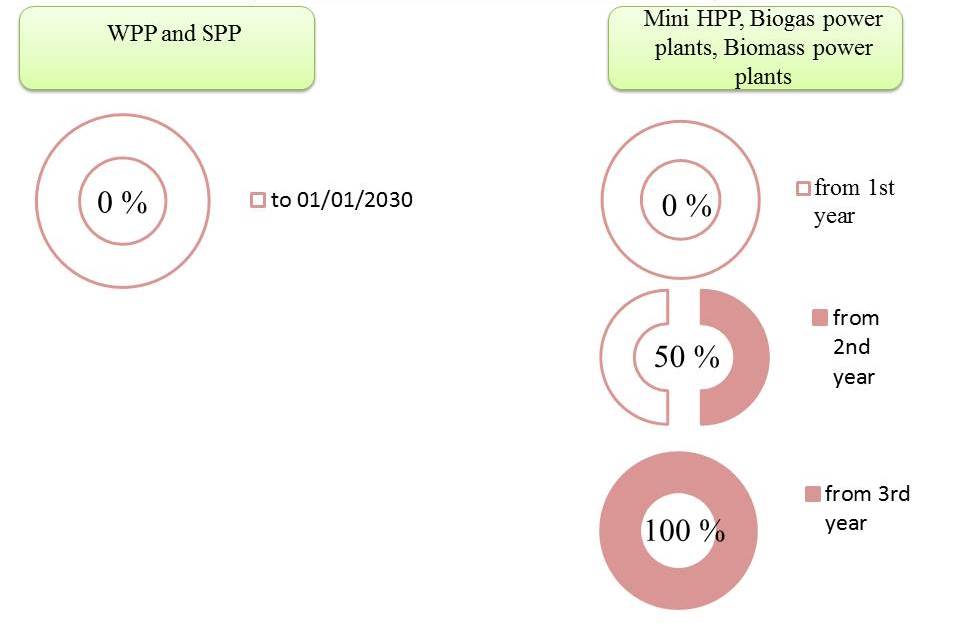 VALUABLE IMBALANCE ADJUSTMENT FUND
Valuable Imbalance Adjustment Fund (FVVD) – specialized state nonprofit organization, the term of which is set to 01.01.2030, the main function of which is to provide / receive services from the alignment of conditions for competition and receiving / providing money.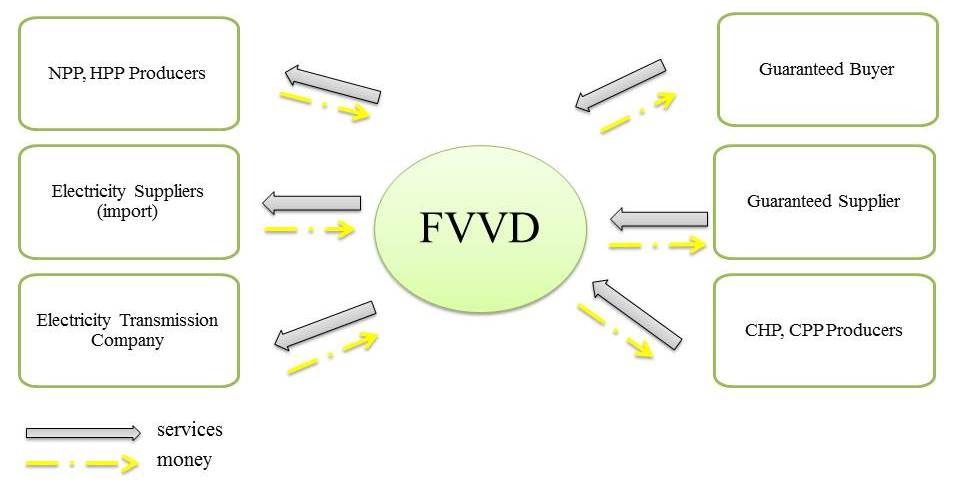 MEASURES AND CREATING NEW STRUCTURAL UNITS TIME DIAGRAM IN THE CONTEXT OF NEW MARKET TRANSITION